"You're too sweet for rock and roll."
-Penny Lane, Almost Famous [2000]
Live music, cold local beer, warm weather, and stunning views. It's finally summer, which means it's finally time for outdoor concerts in Utah. Utah's outdoor concert venues, passion for music, and enthusiastic crowds have made the Beehive State a must-stop tour destination for big name artists and underground heroes alike, as Utah has become an important connection point between Midwest and West Coast tour dates.
Utah's continental climate lends itself perfectly to outdoor concerts, as warm summer nights and stunning mountain views provide a picturesque backdrop to any show. And with more than a dozen outdoor concert venues, long-running concert series, and new music festivals popping up every year, there's hardly a week during the summer where there isn't a handful of outdoor concerts in Utah to enjoy.
Whether you want to see the latest best-selling singers and songwriters, underground hip hop legends, full orchestras and symphonies, jazz and blues heroes, up-and-coming indie artists, local bands, or rock icons, Utah's outdoor concert lineups have a little something for everyone. Here are our favorite outdoor concerts in Utah:
Red Butte Garden Outdoor Concert Series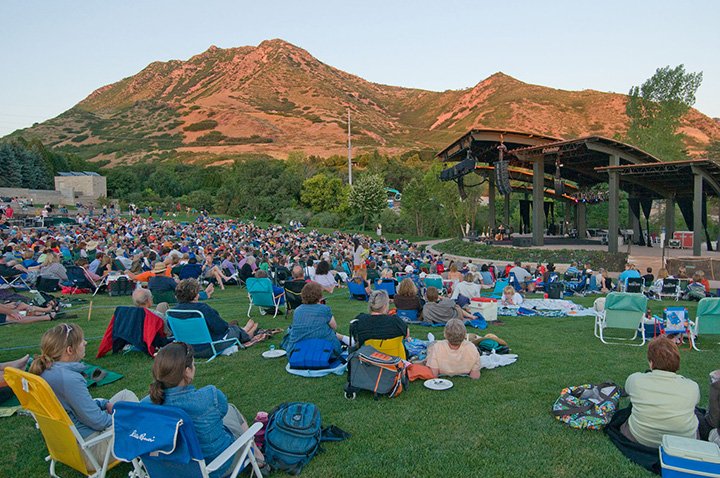 Strolling through Red Butte Garden is already a great way to spend a day, but it becomes even more amazing during long summer nights. Red Butte Garden features a wide-open outdoor lawn with open seating and massive stage nestled right into the foothills of the Wasatch Front. Every summer since 1987, Red Butte has put together a memorable concert lineup featuring a wide-range of artists and genres that cater to crowds of all demographics. It's a total vibe. Red Butte Concerts are BYOB, so feel free to stock up that cooler with your favorite Utah beers and wine, and don't forget to bring something tasty to eat. We love bringing in some of the Best Tacos in Salt Lake City from Taco Taco with a few Uinta Lime Pilsners. Simply put, it's Utah's best outdoor concert venue.
Past Concerts: Vampire Weekend, The Avett Brothers, Death Cab for Cutie, The Decemberists, Wilco, Tears for Fears, Blondie, Steve Miller Band, Alabama Shakes, Brian Wilson, Tony Bennett, HAIM, Sheryl Crow, Santana, Fleet Foxes, Chicago, Violent Femmes, Bon Iver, St. Vincent, David Byrne, The Shins, Al Green, Norah Jones, Crosby Stills & Nash, Gary Clark Jr., Portugal. The Man, Lyle Lovett, Willie Nelson, Steely Dan, Merle Haggard, The B-52s, CAKE, Steve Martin, and many more.
Website: Click Here
Twilight Concert Series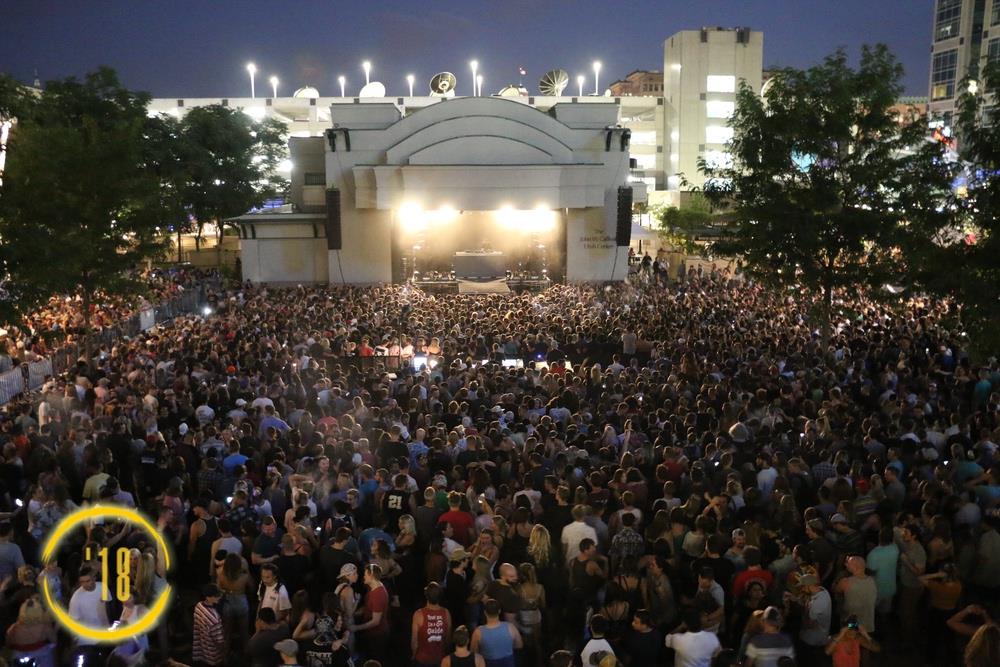 For outdoor concerts in Utah, nobody can touch The Twilight Concert Series in terms of value. For more than 30 years, The Twilight Concert Series in Salt Lake City has brought in the most exciting lineups for less than $10 a show. Originally hosted at the Gallivan Center, then at Pioneer Park, and now back at Gallivan, Twilight brings in the biggest names in music as headliners, and tomorrow's biggest acts as openers. I can't tell you how many huge artists I've seen at Twilight standing in the front row, right up next to the stage. I've also discovered many of my now-favorite artists at Twilight shows when I had no idea who they were coming in (hello, METZ).
With one show every week during the summer and a choice selection of food trucks, beer, and vendors, Twilight will quickly become your favorite part of the week. Also, everyone here argues about the best lineups. I personally stump for 2015, which featured Death Cab, Tune-Yards, Father John Misty, Black Rebel Motorcycle Club, PRhyme, The Kills, METZ, Run the Jewels, Flying Lotus, St. Vincent, and Best Coast… all in the same summer. Unreal. Also, does anyone remember that Wu-Tang show?
Past Concerts: Modest Mouse, Beck, The Black Keys, Father John Misty, The Flaming Lips, Vince Staples, Bright Eyes, Diplo, Sonic Youth, Anderson .Paak, Courtney Barnett, Wu Tang Clan, Grimes, St. Vincent, The Decemberists, Black Rebel Motorcycle Club, Lauryn Hill, Run the Jewels, Kurt Vile, Death Cab for Cutie, Pusha T, METZ, Lupe Fiasco, TV on the Radio, De La Soul, Common, The Roots, Solange, Tune Yards, Flying Lotus, Belle and Sebastian, The National, Grizzly Bear, Kid Cudi, MGMT, Empire of the Sun, My Morning Jacket, Passion Pit, Q-Tip, Big Grams, Jenny Lewis, Digable Planets, Edward Sharpe & the Magnetic Zeros, The Kills, Shannon and the Clams, and more.
Website: Click Here
Usana Amphitheater Summer Concerts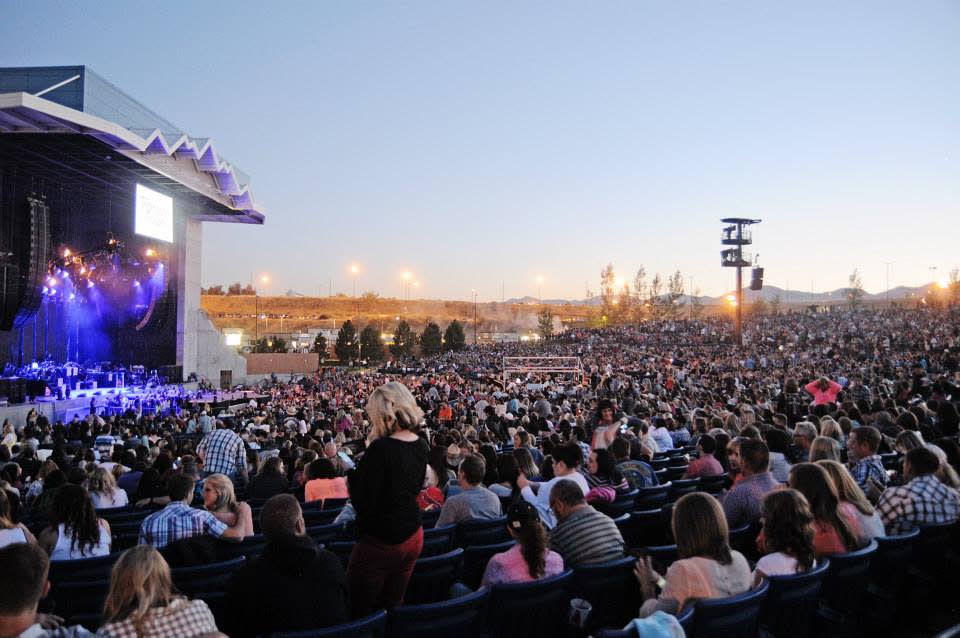 If you want to see the biggest names in music in an outdoor concert setting, look no further than the summer concerts at Usana Amphitheater. Since 2003, Usana has been Utah's premier outdoor concert venue for major artists on their summer tours. With a seated area that has no bad views, a big open lawn for discounted tickets, and beautiful views of the Wasatch Mountains, Usana concerts should always be a part of any summer checklist.
Past Concerts: Drake, Green Day, Luke Bryan, Pixies, Lil Wayne, Megadeth, Muse, Kacey Musgraves, Ozzy Osbourne, Depeche Mode, Iron Maiden, Blink-182, Snoop Dogg, Def Leppard, Thirty Seconds to Mars, Wiz Khalifa, Rush, Imagine Dragons, Styx, REO Speedwagon, Joan Jett & The Blackhearts, Marilyn Manson, Mumford & Sons, Death Cab for Cutie, Cheap Trick, Foreigner, Macklemore, KISS, Motley Crue, My Chemical Romance, Journey, Heart, Alice Cooper, The Offspring, Weezer, Kesha, Steve Miller Band, Rise Against, Slipknot, Poison, Scorpions, and more.
Website: Click Here
Ogden Twilight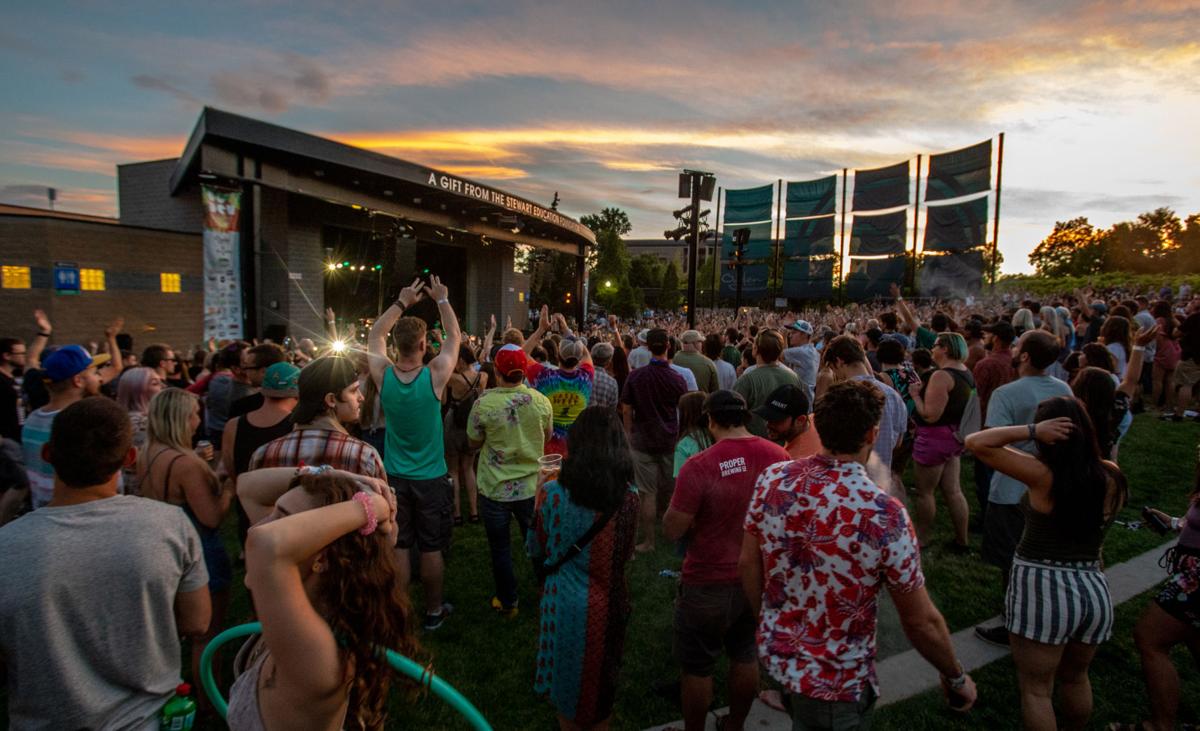 Ogden Twilight may have started as the little sibling to Salt Lake City's Twilight Concerts in 2015, but it has quickly become a destination of its own with fantastic lineups and Ogden's natural charm. Ogden's Historic 25th Street is walking distance from the venue with tasty eats, breweries, and bars for before and after Twilight fun. If you are in SLC and don't want to drive, you can also use your Ogden Twilight ticket as a Frontrunner pass for free.
Past Concerts: Deerhunter, Washed Out, The Flaming Lips, The Growlers, Matt & Kim, Phantogram, Orville Peck, Iron & Wine, The National, Alvvays, Of Monsters & Men, Little Dragon, Sylvan Esso, Cold War Kids, CHVRCHES, Chromeo, OK Go, The Shins, Miike Snow, Washed Out, Crystal Castles, Built to Spill, and more.
Website: Click Here
Sandy Amphitheater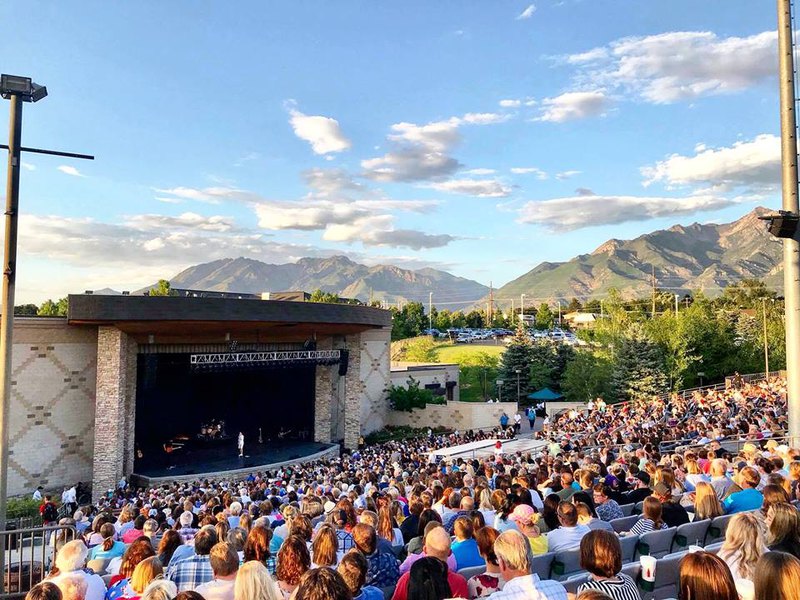 Situated just down I-15 from Salt Lake City is Utah's most underrated outdoor concert venue. The Sandy Amphitheater (opened in 1999) has a laid-back, community vibe to it that's perfect for summer, and features a diverse collection of artists from every era. And as of 2019, that laid-back vibe got even more laid-back as the venue announced they will begin selling beer and wine.
Past Concerts: Norah Jones, Taylor Swift, Brian Wilson, The Zombies, Michael McDonald, Weird Al Yankovic, The Doobie Brothers, America, Boz Scaggs, Peter Frampton, Foghat, Pat Benatar, Collective Soul, Gin Blossoms, The Bellamy Brothers, The Village People, Donny & Marie Osmond, Amy Grant, Night Ranger, Air Supply, Little River Band, Ann Wilson, Dashboard Confessional, The All American Rejects, Ben Harper, Chicago, Toad the Wet Sprocket, A Flock of Seagulls, Boyz II Men, Toto, Sinbad, Colbie Caillat, and more.
Website: Click Here
Provo Rooftop Series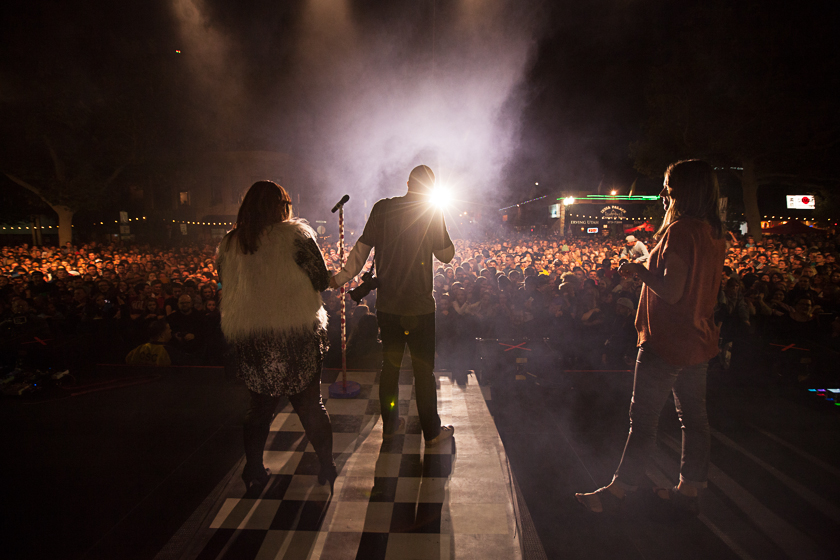 Utah County's best outdoor concert series is the Provo Rooftop Concert Series. The series began in 2010 to support the vibrant Provo music scene, and for the first 5 years it was actually hosted on a rooftop until it became so popular that it had to move down to the street level (but held onto the name). The Rooftop Concert Series is hosted the first Friday of every month during the summer, and it's completely free.
Past Concerts: Imagine Dragons, Neon Trees, The National Parks, The Moth & The Flame, Fictionist, Joshua James, The Aces, The Aquabats!, Kaskade, Baby Ghosts, Desert Noises, Bat Manors, and more.
Website: Click Here
LOVELOUD Festival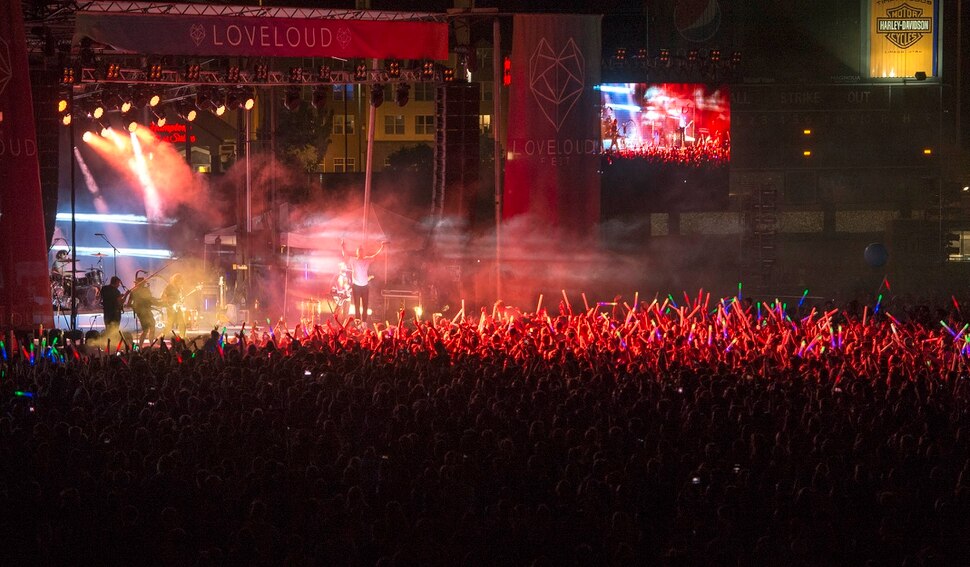 Since 2017, the LOVELOUD Festival, founded by Provo's own Dan Reynolds from Imagine Dragons, has brought in big name artists to raise money for important LGBTQ+ charities and organizations including the Trevor Project, GLAAD, The Human Rights Campaign, Tegan and Sara Foundation, Encircle, and more.
Past Concerts: Kesha, Tegan & Sara, Grouplove, K.Flay, Laura Jane Grace, Imagine Dragons, Zedd, Neon Trees, Krewella, Joshua James, and more.
Website: Click Here
Crucialfest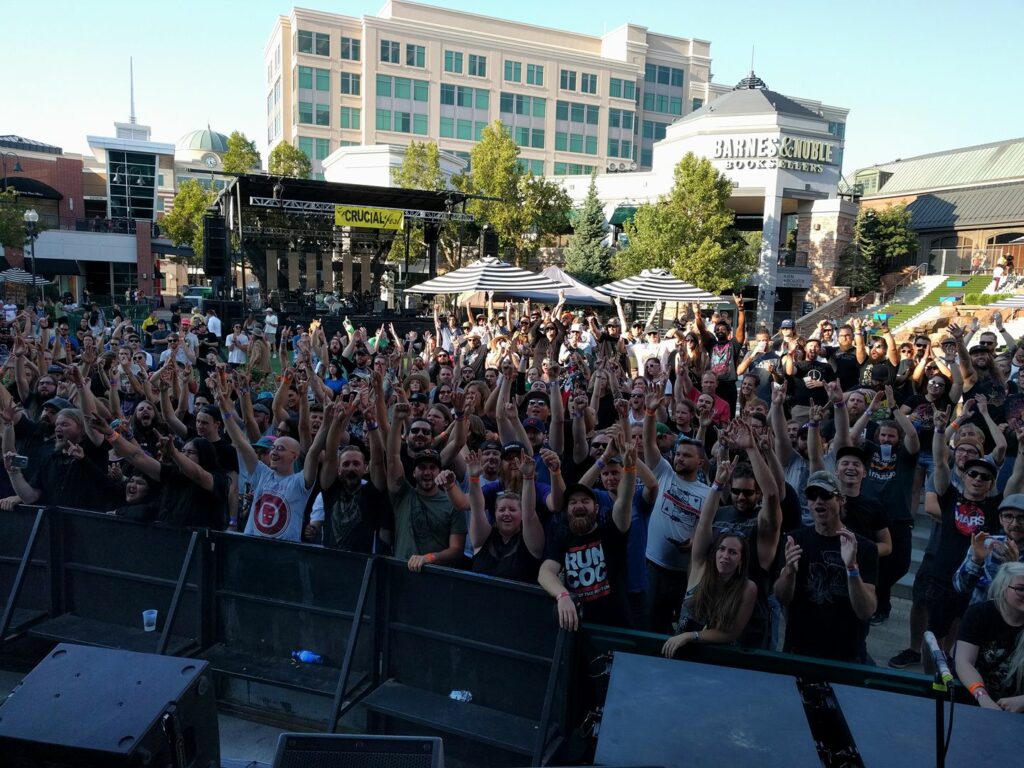 Crucialfest is a multi-day music festival in and all-around Salt Lake City. This isn't your radio-friendly festival, and it should be in contention for SLC's best music festival. What makes Crucialfest special is it focuses on collecting metal, punk, post-hardcore, thrash, sludge, psych, and underground hip-hop bands, as well as SLC's homegrown talent (check out The Nods, Brain Bagz, Sunsleeper, and Westing PLEASE) and putting them all on the same bill.
Past Concerts: Neurosis, Chelsea Wolf, Slaves, Cult Leader, Brain Bagz, The Growlers, STRFKR, Built to Spill, Minus the Bear, Red Fang, P.O.S., Why?, Broncho, Radio Moscow, Deap Vally, The Frights, The Nods, Westing, Super 78, Sunsleeper, Donner Partyhouse, SubRosa, Royal Thunder, Dead Meadow, Goatsnake, Eagle Twin, and more.
Website: Click Here
Salt City Sounds Concert Series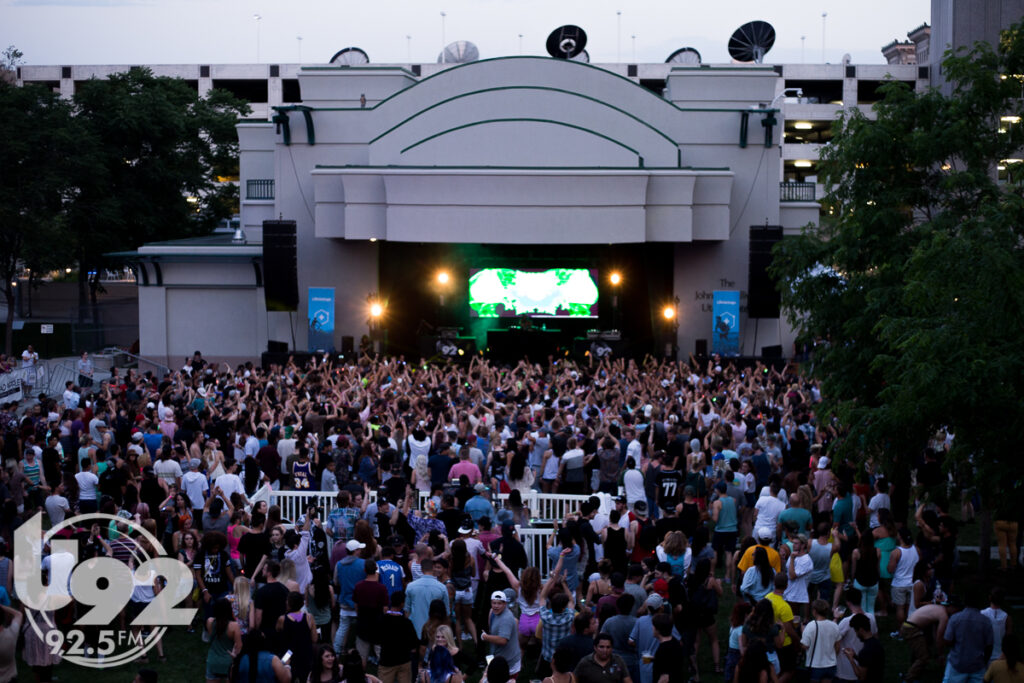 The Salt City Sounds Concert Series is hosted at the Gallivan Center and features lineups with mostly hip-hop, electronic, and EDM artists.
Past Concerts: Blue October, The Decemberists, Warren G, E-40, Empire of the Sun, Common, X Ambassadors, Lil Jon, Kaskade, Steve Aoki, Bone Thugs N Harmony, Chromeo, Alesso, Thompson Square, Broods, Saint Motel, Party Favor, Ying Yang Twins, and more.
Website: Click Here
Deer Valley Concert Series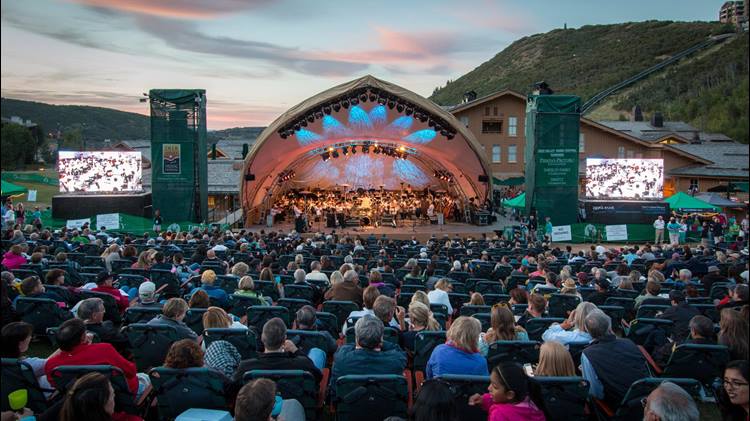 If you're in Summit County, don't worry, Park City also has it's own amazing outdoor concerts. The Deer Valley Concert Series continuously pulls in top acts, country and folk heroes, classic rock icons, and incredible orchestras and symphony arrangements. You won't want to miss this.
Past Concerts: Jewel, The Beach Boys, Dierks Bentley, Ben Folds, Lucinda Williams, Dwight Yoakam, The B-52s, Smash Mouth, Lukas Nelson, Ziggy Marley, Jenny Lewis, Ben Harper, Trombone Shorty, The Decemberists, Gov't Mule, Jason Mraz, Toad the Wet Sprocket, Aloe Blacc, Vince Gill, Martina McBride, Trampled by Turtles, Los Lobos, Lyle Lovett, Sara Bareilles, One Republic, and more.
Website: Click Here
Utah State Fair
Every year, the Utah State Fair puts on fun, family-friendly concerts with artists like Kansas, Foreigner, 3 Doors Down, Collective Soul, Blue Oyster Cult, and more. Plus, you get to eat all that delicious fair food. Sounds like a huge win.
Website: Click Here
Utah Blues Festival
Believe it or not, Utah has a rich history of hosting traveling blues musicians including the likes BB King, Muddy Waters, James Cotton, and more. Since 2015, the Utah Blues Festival at the Gallivan Center has brought in top national blues musicians for a multi-day experience that also includes fun workshops like cigar box guitar making classes, food vendors, and youth showcases.
Website: Click Here
Rio Grande Concert Series
The Rio Grande Concert Series is held weekly at the Olympic Plaza at the Gateway Mall in the month of May. These free concerts are a great way to spend an early summer evening and feature live music, food trucks, and craft beer and cocktails.
Website: Click Here
Blues, Brews & BBQ Concert Series @ Snowbasin
Is there a better or more accurate name for an outdoor concert series? They've got Blues. They've got Brews. And oh boy do they got BBQs. Be sure to check out these weekly outdoor concerts at Snowbasin. Oh yeah, and every show is FREE.
Website: Click Here
Additional Utah Outdoor Concerts