"I have the audacity to believe that peoples everywhere can have three meals a day for their bodies, education and culture for their minds, and dignity, equality and freedom for their spirits."

-Dr. Martin Luther King Jr.
Salt Plate City supports Utah's Black-owned restaurants, Black community, and the Black Lives Matter movement. Like all of you, we are disgusted by the continued police brutality against People of Color, and the escalation of violence by those in uniform during peaceful protests in Salt Lake City and around the country after the recent deaths of George Floyd, Ahmaud Arbery, and Breonna Taylor. We are frustrated and angry at the lack of repercussions for those who continuously harm and terrorize our communities. 
This is not a political issue. This is a humanity issue. We are patriotic Americans—Not because of what this country has been, or what it is right now, but because of what it can be. We will continue to demand justice, inclusion, and change.
During this time, we would like to share with you a list of Black-owned restaurants in Utah provided to us by Brownies Brownies Brownies and Black Lives Matter Utah. We strongly recommend you support these Black-owned restaurants. Eat there, order takeout, and be sure to share your experience on social media and rate them on 3rd party sites like Google and Yelp. 
If you are aware of any Black-owned restaurants in Utah that are not represented on this list, or notice any edits needed, please leave us a comment below so we can update it immediately. 
For more resources and ways to support, please visit the links below:
11 HAUZ
View this post on Instagram

Neighborhood: Park City
Address: 1241 Center Dr. L140, Park City, UT 84098
African Discount Market
Neighborhood: South Salt Lake
Address: 3232 400 E #500, Salt Lake City, UT 84115
African Spice
Neighborhood: South Salt Lake
Address: 751 W 800 S, Salt Lake City, UT 84104
Balabe Senegalese Cuisine
View this post on Instagram

Neighborhood: (N/A) Food Truck
Benji's BBQ
View this post on Instagram

Neighborhood:(N/A)Food Truck
Casual Cuisine Caterers
Neighborhood: (N/A) Catering
Dawgz-N-Leenks
View this post on Instagram

Neighborhood: South Salt Lake
Address: 3359 S Main St, Salt Lake City, UT 84115
Diversion Social Eatery
View this post on Instagram

Neighborhood: Marmalade
Address: 535 N 300 W H-104, Salt Lake City, UT 84103
Eddy's Magic Spoon Catering
View this post on Instagram

Neighborhood: (N/A) Catering
Faces Lounge and Eatery
Neighborhood: Capitol Hill/Marmalade
Address: 659 N 300 W, Salt Lake City, UT 84103
Icy Mountain Shaved Ice
View this post on Instagram

Neighborhood:(N/A)Food Truck
Jamaica's Kitchen
View this post on Instagram

Neighborhood: (N/A)Food Truck
James' Gourmet Pies
View this post on Instagram

Neighborhood: Ogden
Address: 2386 Kiesel Ave, Ogden, UT 84401
Joe's Cafe
View this post on Instagram

Neighborhood: Orem
Address: 1126 State St, Orem, UT 84097
Kafe Mamai
View this post on Instagram

Neighborhood: (N/A) Food Truck
Lovee's Cakes
View this post on Instagram

Neighborhood: South Ogden
Address: 706 E 5600 S, South Ogden, UT 84403
Mahider Ethiopian Restaurant
View this post on Instagram

Neighborhood: Liberty Wells
Address: 1465 State St #7, Salt Lake City, UT 84115
Makaya Haitian Catering
View this post on Instagram

Neighborhood: (N/A) Catering
Miss Essie's BBQ
View this post on Instagram

Neighborhood: (N/A) Catering
Address: 6064 300 W STE 11, Murray, UT 84107
Monsieur Crepes
View this post on Instagram

Neighborhood: East Central
Address: 1617 S 900 E, Salt Lake City, UT 84105
Mother of All Sudanese Cuisine
Neighborhood: (N/A) Food Truck
Namash Swahili Cuisine
View this post on Instagram

Neighborhood: (N/A) Catering
Nutrition & Ethnic Foods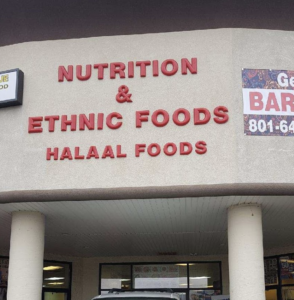 Neighborhood: West Valley City
Address: 3197 S Redwood Rd # 6, West Valley City, UT 84119
Noor Restaurant
View this post on Instagram

Neighborhood: Glendale
Address: 1151 S Redwood Rd, Salt Lake City, UT 84104
Policy Kings Bar & Brewery
View this post on Instagram

Neighborhood: Cedar City
Address: 223 N 100 W, Cedar City, UT 84721
Row Ohhs Chicken & Waffles
View this post on Instagram

Neighborhood: Delivery
Sauce Boss Southern Kitchen
View this post on Instagram

Neighborhood: Draper
Address: 877 E 12300 S, Draper, UT 84020
Sheer Ambrosia
View this post on Instagram

Neighborhood: Online Only
Smokey's BBQ
View this post on Instagram

Neighborhood: Ogden
Address: 207 25th St, Ogden, UT 84401
Horn of Africa Restaurant
View this post on Instagram

Neighborhood: Glendale
Address: 1320 S, Swaner Rd, Salt Lake City, UT 84104
Taste of Louisiana
View this post on Instagram

Neighborhood: (N/A)Food Truck
XpressO
Neighborhood: Downtown
Address: 150 State St #1, Salt Lake City, UT 84111
Yoko Ramen
View this post on Instagram

Neighborhood: Downtown
Address: 473 E 300 S, Salt Lake City, UT 84111