"Oh, that's not obvious enough Rob. How about the Beatles? Or fucking… fucking Beethoven? Side one, track one of the Fifth Symphony… How can someone with no interest in music own a record store?"

-Barry, High Fidelity [2000]
Nothing sounds better than hearing the needle drop on a brand new record. It's ecstasy. To find the best records, you need to dig through the greatest crates in the city. In our Best Record Stores in Salt Lake City list, we take a look at the record stores that we visit consistently for their selection of new LPs, taste in rare record trade-ins, variety of genres, in-store personnel, in-store concerts, and much more.
Early on, I was lucky enough to be gifted my dad and uncle's collection of records from the 60's, 70's, and 80's and I've been obsessed with tangible media ever since. The Salt Lake City record stores on this list have allowed me to continue that obsession with rare finds of old vinyl releases as well as the best of the best of new music. While much of my music consumption these days is through music streaming, I always try to purchase LPs to support the artists who make the albums that I have on repeat. I can safely say these record stores in Salt Lake City will not disappoint. Spin that shit.
Diabolical Records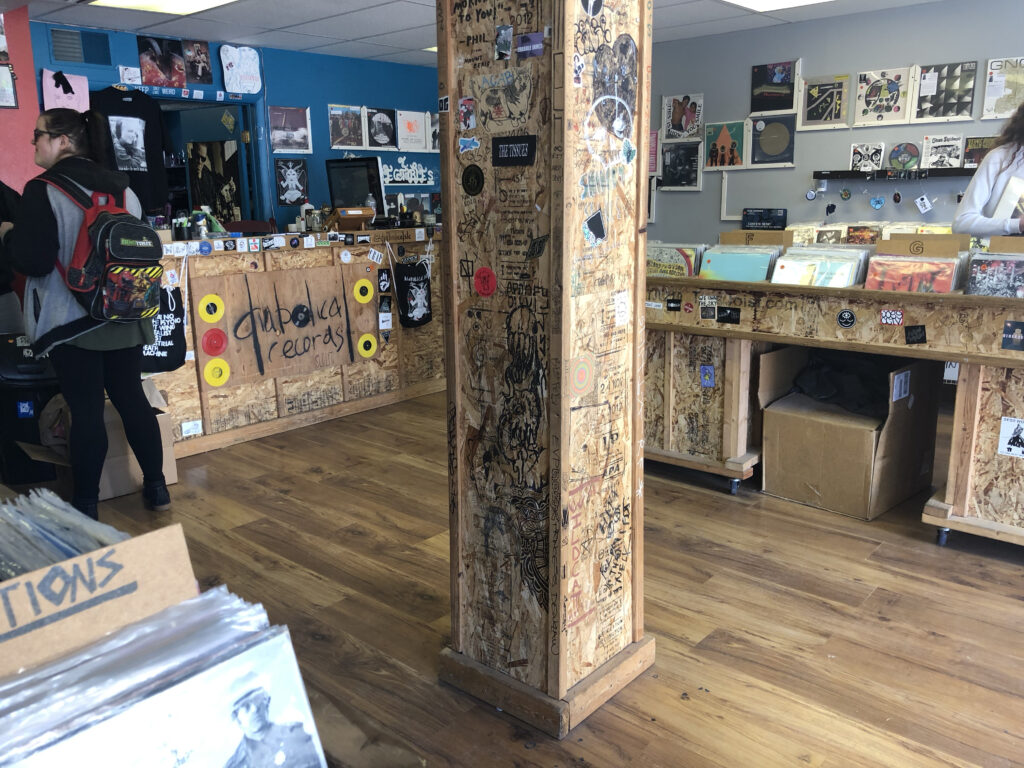 Neighborhood: Downtown Salt Lake City
Address:238 S Edison St, Salt Lake City, UT 84111
Diabolical Records might be my favorite place in SLC, not just my favorite record store in SLC. Store owners, Adam and Alana, started Diabolical in a shipping container in Granary Row back in 2013, but quickly made a name for themselves with their incredible taste in music, eye for rare records, and passion for the SLC music scene.
2014 is around the time I finally moved from the south end of the valley to Downtown SLC, and it's also around the time Diabolical Records moved from their shipping container to their current location on Edison Street. I read about Diabolical Records and it quickly became my haven for local music. Diabolical Records carries a wide variety of eclectic records with genres specialties including psych, punk, garage, electronic, jazz, and (as they put it), "anything good." They also carry many local records and tapes.
What makes Diabolical the best SLC record store is their passion for the local music scene. Some of my first Diabolical experiences were seeing local bands like Foster Body, JAWWZZ (later Sculpture Club), Chalk, Brain Bagz, Choir Boy, and The Nods play the store like their hearts were going to stop if they stopped. Diabolical also hosts Bandemonium, a one of a kind show where musicians and non-musicians alike are placed into random bands and have a few days to come up with songs. Touring bands like Soft Kill, Cool Ghouls, and the Coathangers have also made stops at the store.
Randy's Record Shop
Neighborhood: 9th & 9th
Address: 157 East 900 South, Salt Lake City, UT 84111
Randy's Records in the 9th and 9th neighborhood of SLC is truly a magical place for records, with vinyl, CDs, and tapes covering every inch of their walls. What makes Randy's Records one of the best record stores in Salt Lake City is the depth and breadth of music in the store. I've found Kanye albums that have been out of production for years with the inserts still intact, original Riot Grrrl albums that I never thought I would own, and (honestly) the new Kacey Musgraves album. If you are looking for new records as well as classic albums to fill out your collection, Randy's is the SLC record store for you.
Graywhale Entertainment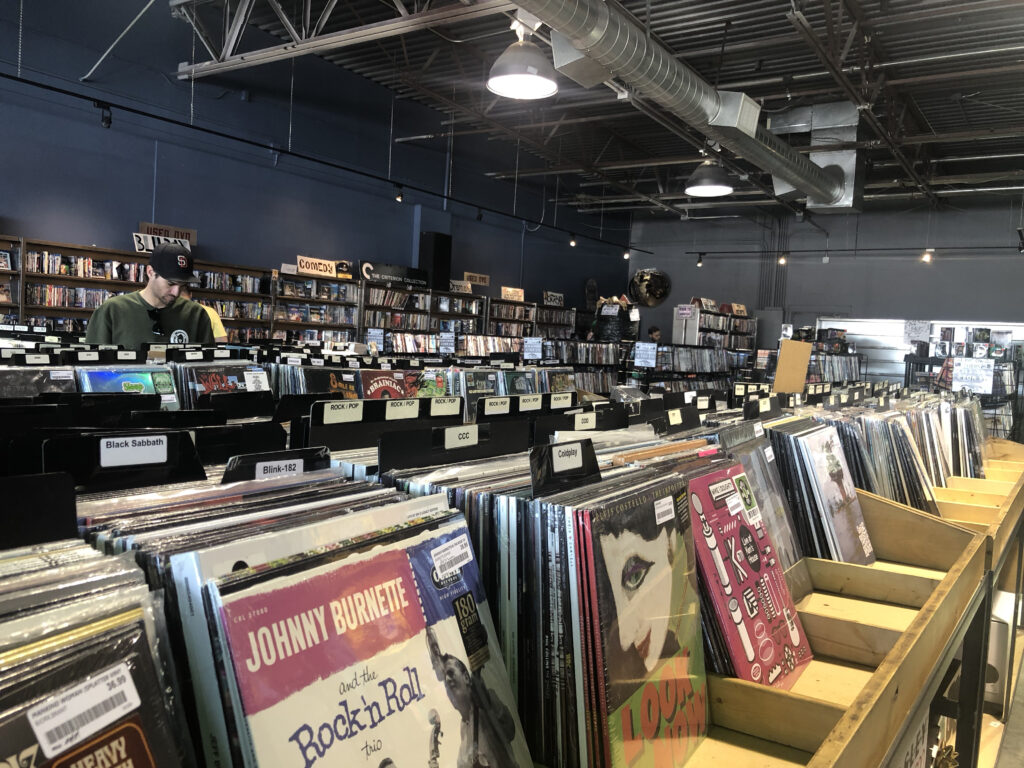 Neighborhood: Taylorsville
Address:1773 W 4700 S, Salt Lake City, UT 84129
For the sheer volume of records, Graywhale does it the best. With multiple record stores in SLC and the surrounding areas, Graywhale provides a wide-selection of newly released vinyl as well as a HUGE selection of used records, often times at a great value. If you frequent SLC record stores, be sure to grab a Killerwhale Card which gets you $1 off regularly priced new and used LPs as well as other discounts throughout the store. Graywhale also has in-store shows from touring acts, which is how I got to meet Cage the Elephant and see them play an acoustic show. It's been years and I'm still telling too many people about that show.
Raunch Records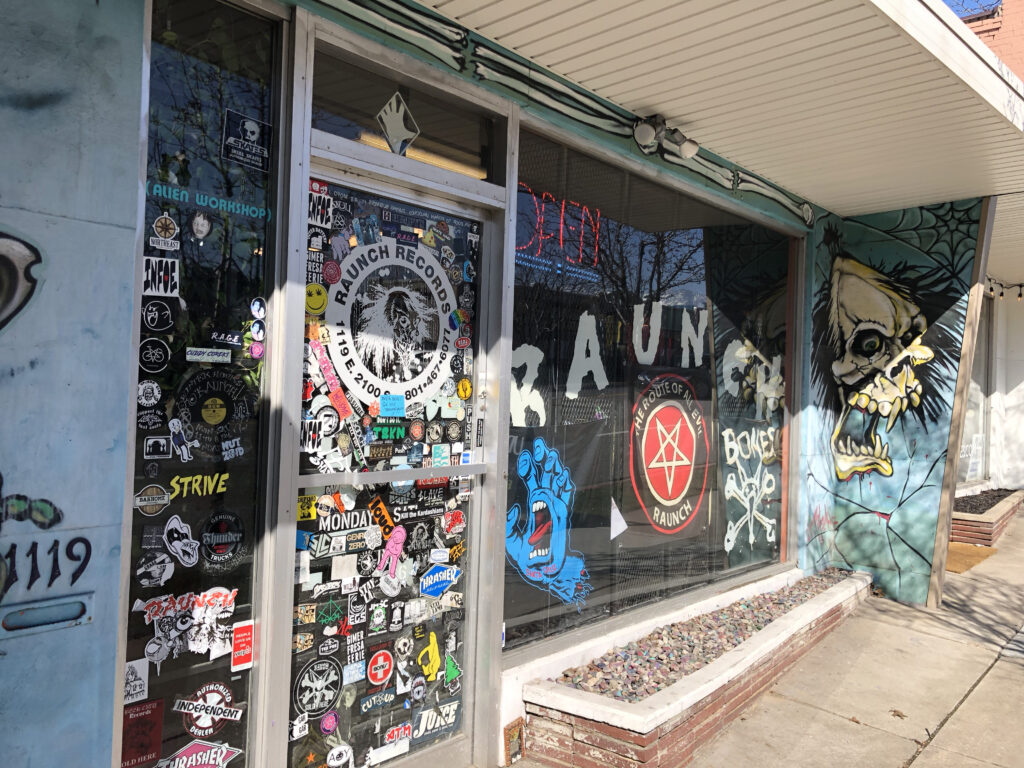 Neighborhood: Sugar House
Address:1119 E 2100 S, Salt Lake City, UT 84106
Raunch Records is a survivor. From its original location in Downtown SLC, to its current location in Sugar House, Raunch Records has been the SLC record store providing generations of skate punks and hardcore fans with hard-to-find underground music.